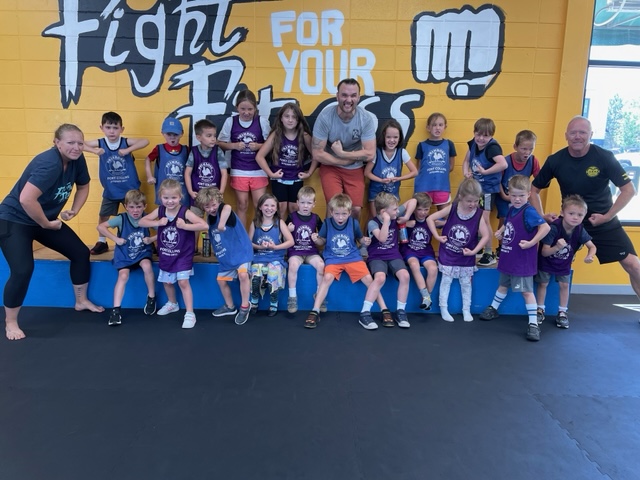 MA Fitness Loveland and Primrose School of Fort Collins combined forces to get their students active and learn self defense skills. The kids enjoyed getting familiar with kickboxing and self defense techniques with the certified kids MMA instructors and staff. Smiles stuck on the students faces as they punched and kicked their way through the training. MA Fitness Loveland provides kickboxing conditioning and reality self defense instruction for adults, teens and kids at 285 E 29th St, Loveland, CO 80538
School Group Demo Class
The kickboxing and self defense class syllabus includes: Warm-ups, form and shadow boxing, instructor led heavy bag/partner work, games, a kid friendly HIIT workout and reality self defense anti-abduction training. Over a 2 hour class the kids got to interact with these techniques and each other in a fun and engaging way. Training MMA and Self Defense is about empowerment. As you learn to move your body in powerful ways your self confidence and skill grow. MA Fitness Loveland desires that every student walk in the right confidence and back that up with a skill set for safety.
Check out this quick video below!
Interested in Scheduling Your School Group?
MA Fitness welcomes local schools and homeschool groups to schedule unique group training for 10+ students or join an ongoing weekly class time for a free trial.  The coaches can build a unique class for your group that will empower them to live healthy and safer. Contact us via the website form or give us a call on the main line (727) 392-3198.